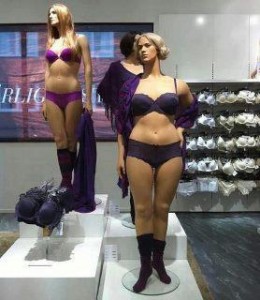 Hallelujah!  The dawn of a new age has arrived.  Last week an image of Sweden's newest prototype for mannequins went viral.  These mannequins are between the sizes of 12-16, a.k.a. normal sized.  Would somebody please define normal?  The average size for women is a 14, but it's all relative.  Size 14 at five foot is different than size 14 at six foot.  And some women are "normally" quite skinny while others are naturally bigger.  Yet, to see there are now variations of mannequin size is a win-win.
It sucks walking into a store, loving an outfit on one of these plastic humanoids, and knowing that it won't, in a million years, look good on your body.  Buyers should be able to view fashion that looks good on sizes bigger than "I need some carbs." We shouldn't get rid of the "skinnies", or glorify unhealthy lifestyles; we should just embrace the "what is".  All of the people yack-yacking about nutrition and health are denying the truth of the situation.  Different sized people buy clothes.  A mannequin is "born" to be a trendsetter and sell a product.  The health crisis in America won't be solved by refusing to put Thick Jenny on display at Nordstrom.  You want to fix the health crisis?  Lower the price of healthy food alternatives and raise the price of deep fried crap.  You want to fix the health crisis?  Fix the economic crisis suffered by the poor.  Uh oh, someone's starting to sound like a Socialist (whisper that last word so no one hears it).
If you couple these new mannequins with the decision made by Spain in 2006 to only allow healthy-ish models on the catwalk, you'll see an emerging trend.  Unhealthy swings in two directions.  Many women and girls have been left out of the definition of "beauty" force fed to us by advertisors.  They define themselves and their worthiness by a Photo-shopped standard.  But it doesn't stop there, because men use these same standards.  Showing life-like images doesn't just shift the paradigm for women.  It shifts for men too.  When they begin to see a variety of models in varying shapes, their ideas of perfection change.  Perhaps with a focus less on one external ideal, both genders would pay more attention to things like a woman's gentle nature or rebellious one, her artistry or business acumen, her political sense or comic timing, her ability to cook or knowing exactly the places to order out, her eye for design or ability to do her own engine tune up, her affinity for reality television or smutty romance novels, her willingness to slow down or to tell you to "keep the fuck up", her love of Willie Nelson, Nicki Minaj, tacos, spaghetti, beer, chocolate, vanilla, candles, shoes, painting, math, science, religion….
Well, one can hope.