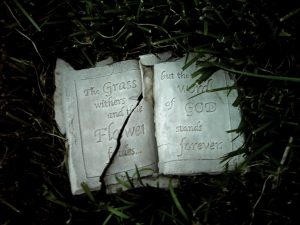 Spoiler alert…we're all going to die.  Don't be mad that I told you.  The ending isn't so great anyway.  I mean, it really depends on how much you liked the show, because as we know, everyone's a critic.  I don't plan on going out without getting the last word though, not that I'm competitive or anything.  But…why under earth would I chance some creatively comatose entity scratching their blather into my final resting place?  Have you seen the words people leave as final turn-of-phrase for the recently deceased?  I'm crossing myself and I'm not even Catholic.  Who writes those epitaphs anyway?  What they need is a shot of epinephrine.  Not the people.  The epitaphs.  So, I have taken it upon myself to write my own epitaph.  And forget the stone, I want it displayed on one of those digital picture frames scrolling through pictures of my life. Here it is for all you curious souls:
Left a literary legacy in binders, took her eye of spotting pictures hung a millimeter off-level, made people think about the ridiculous, accepted that love is easier to give than get, believed in "unconditional", and was slutty when it mattered.  On to the next adventure.
Now it's your turn.  Tell me what your final headline will be.  And please, for the love of dog, try to prevent me from suffering epitaph narcolepsy.