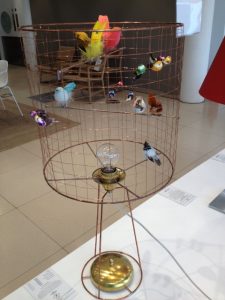 After spending some time in London, it's quite evident that there is a fascination among the English with birds, ahem behrds.  Maybe it's the countless bread-fed pigeons that roam the streets or the mud-hen, which I find pretty and not muddy at all and have renamed the "two-color duck", swimming in Regents Canal.  Maybe it's the swans along the Thames.  So, a trip into Marlyebone to The Conran Shop made me squeal with delight when I saw this fanciful bird lamp.  I've seen it before in magazines, but it's different in person, like a handcraft your grandmother would give you if she owned a bad-ass welder and had a tiny, fake, feathered flock.
I want to own this lovely ornament but then, there's the logical part of me that says, "Jimeney Christmas!  This thing costs $640!  I could buy a crapload of hangers, a bad-ass welder, feathers, some styrofoam Tweeties, and make it myself for that much money!"  And so, I leave yet another store with plans to make something I see, but will find instead on Pinterest where Crafty Jane in I-have-nothing-else-to-do-with-my-time, North Carolina has done it much better.
In any case, I had an epiphany.  I now realize why Englishmen call women birds.  We're complicated and beautiful.  We primp.  Some of us are swans and some of us are two-color ducks (mud hens).  We make men squeal with delight.  And there are just so many different types to observe.  Maybe men should have a "bird" lamp to look at.  I bet it would sell well on Amazon.  So, about that welder….