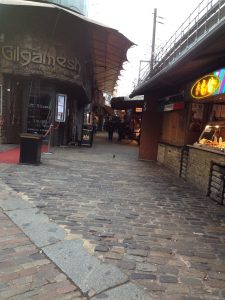 If you get on the Northern Line train at Goodge Street and take it four stops North, you'll end up in one of the coolest places London has to offer.  Camden Town is an alternative little borough known for its music scene and markets.  In my mind, you really can't go wrong with that combination, but if you need more convincing you can see the operational locks, get a a henna tattoo or a real tattoo, walk on streets that look Diagon Alley of Harry Potter fame, and for about two quid eat a meal while walking that will top most of your typical, pretentious, sit-down places in central London.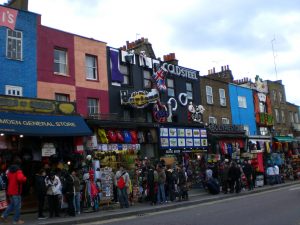 If you talk to a certain "caliber" of tourist you might hear that Camden Town is full of gypsies, tramps, and thieves.  You might hear that it's rough around the edges and that it's a good place to buy costumes but not much else.  Maybe it's my propensity for all things rebellious, but I like that you could live here and have your local jeweler turn out to be a dread-locked Rastafarian with room in her pockets for a harmonica and some weed.  I also like that you can get homemade hats, original artwork, and a demo CD from a local band that sounds like they could eat Justin Bieber for lunch.  Oh, and rent is cheaper too.
So, when I think of gypsies, tramps and thieves in Camden Town, I think of Cher and steampunk.  Cher because she makes being on the fringe sound like a blessing.  Steampunk beause you can get a very sexy Victorian-esque corset and Doc Martins at a number of stores throughout the market.  I also  think of mystery and tribes banding together for a common cause.  I don't think about all the negative things to be afraid of in this tiny part of the world.  Instead, I think of what I gain by exploring.  And in honor of this ideology, here's the woman who shaped my mind about the whole thing anyway.  Consider this a Gypsyland detour on your life's playlist.