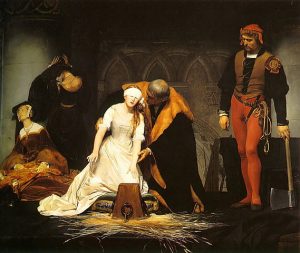 This is a poem I wrote tonight about seeing the painting The Execution of Lady Jane Grey by French painter Paul Delaroche, at the National Gallery in London.  No painting has ever stopped me in my tracks like this one.  There is something unexplicable about the magnetism of this piece of art.  If you get a chance, you should absolutely read the whole story of this doomed girl.
Killing a Lady Queen Only Fifteen
Her eyes cannot pull through paintings
perfumed with aged dust and spirit of
Reformation.  They are covered.  Bound.
Tightly wound and blinded but full of light;
she is easy to find this Lady Jane Grey.
Given away as a handkerchief to her Fate.  Marriage.
Her mate Guildford Dudley, a Duke by proxy.
Heirarchy loosely woven in documents
of kings decree.  All the king's men, their allegiances
turn sour, while reluctant queen waits in the London Tower.
She is a flame.  Burning through this National Gallery.
I didn't know she was calling me…yet here I stand.  There are
so many beauties to be seen in this place.  Yet, she is mine.
I've seen her face full of fear and heaven.  I cannot leave.
A lady fifteen, treason queen.  Less
than a fortnight she ruled and she died.  The rebellion
wasn't hers, but she was the prize.  Her husband
locked away until the moment she cried "Oh Guildford, Guildford,"
as they passed him by, lost was his mind, but his heart…yes,
his heart remained.  Cold where he lay.
She followed his memory path to the Tower Green.
"Forgive me, please," begged Executionar to
the Lady on her knees.  "Dispatch me quickly," she absolved
with her near final breath.  She could not see, so her hands
tried to lead to the last solid place she would rest her pale cheek.
Not the chest of her lover, nor the breast
of her beloved mother.
"What shall I do?  Where is it?" she cried
and the deputy beside her answered her call.  Revealed
the block for her head.  A London museum but I
am not here.  There's a girl before me whose
life was not spared.  This is not art, it's
a life once revered.  "Lord into my hands I commend thy spirit."  Last words.
Close my eyes.  I'm sure I can hear them.