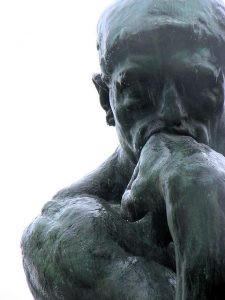 Making thinkers is a delicate job full of tiny little details and potential mess-ups that could ultimately lead to collosal failure.   Someone could swim right to the edge of the infinity pool and then what?  As one well-known gentleman once said, "aye, there's the rub."  We can't foresee the outcome and that's just downright scaaaarrrrrrryyyyyy to some.
You see, so many teachers are in the midst of a revival, singing praises to the system, or at least going along because the music sounds nice and everyone is just "so darned friendly."  When you're part of the potluck it's a great experience.  So much so that you forget to listen to the sermon to see if it actually preaches values you believe in.  Next thing you know, everyone is drinking the Kool Aid.
Stay away from the Kool Aid.
In no way should a teacher's job include caving to prescribed ways of thinking.  I know this may rub some the wrong way.  Of course parents matter.  Of course there are societal expectations of behavior.   A good teacher will challenge their pupils to look at these things with open eyes and make sound decisions about how to navigate through such obstacles with clarity about what works best for them.  Notice the words "sound decisions".  This does not mean aloof, juvenile, ridiculous decisions, but instead implies a level of sanity and conscious consideration.  It means saying the hard stuff and meeting kids where they learn so that they can be great thinkers.
It can be overwhelming to consider all of the things that "shouldn't be said" in the name of appropriateness and protecting the youth.  There are things we should be protecting our kids from.  Real predators exist in this world, and most people I know would be willing to jump in front of a bullet or rip someone apart who was intent upon exercising physicial violence.  But, often this idea of mentally protecting our youth is more about control.  To really protect kids, we should quit hiding the truth from them.  We should also quit telling them that our agenda is the only one.  At certain ages, they're going to see and hear things that aren't all sunshine and fairy farts.  Yep, fairy farts.  Did you cringe at the word fart?  Good.  If you did, I'm talking to you.
Teaching should beget questioning, shoud beget challenging, should get kids out of the black-and-white and into the grey.  Instead of routine, let them learn to have a strong, personal, internal GPS.  Google Maps is wrong half the time anyway.  Teach them that the best maps are the ones they create for themselves.  Heck, you can even draw out your own journey, but don't lie and say it's the only way.  Teach creativity and imagination.  Teach innovation.  And remember, what you're not saying speaks as powerful a message as what you are saying.