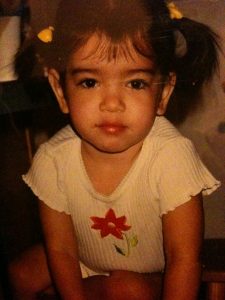 Dear child who I remember when you had that pacifier hanging from your mouth like a Frenchman's cigarette,
Today you will leave this nest I built with pieces of scrap money and Santa paper, brilliant ribbons of words trilled to you in child songs, and sticks of wisdom layed softly so as not to poke you with their jagged ends.
As you start this new adventure and begin your path of higher education, I remember your other starts, some full throttle and some hesitating.  Your first steps on chubby little legs, your first whisper of my name, your first crush and your first heartbreak, your first failure, and your first triumph.
I remember "bad arm days", and frowning tea parties.  In my memory I still see your tears as you watched the Little Mermaid sink to her untimely death, and the realization I had rented the wrong version, Grimm instead of Disney and you asking to watch it again….and again.  Crying each time.
You have changed before my very eyes, and yet, ever so slickly that I could not tell until you were this new beautiful creature.  That's how it happened often and over again.  Always before me growing.  With wonder I would see the new you as if you hadn't been with me the whole time.
Your life has forever changed me.  You have made me a crazy person, an amazing person, a possessive person, an obsessive person, a creative person, a chef, a caterer, a teacher, a maid, a chauffeur, nurse, coach, psychopath, empath, therapist…more special than I ever would have been if I had been left to my own devices.
It saddens me to watch you go on your grown woman legs, with your grown woman mind and dreams, and yet it delights me that I get be a part of your past, present and future.  I was given this gift of you, for however long a time we share and I am aware that you have big things in store, but I will always be your anchor when you feel adrift and the world seems far too big.
I am never far away…