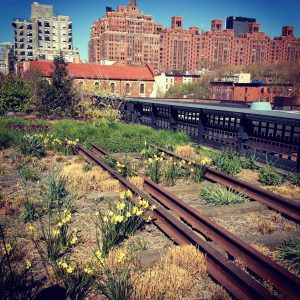 Cities seem to be the bastard stepchildren of sustainability fanatics.  They get blamed for all the bad stuff.  I can say this with expert knowledge because I am the offspring of said sustainability fans.  For the whole of my life, the benefits of living off the grid have been glorified.  When you grow up in an old chicken coop, crave snacks and are told "bake them yourself", spend summers picking the food that will feed you through the winter, raise calves named Mr. T Bone and Chuck Roast because you must always keep in mind their personal sacrifice to the "better good", trade cars for lambs, learn to sew, knit, weave, create, and are subliminally taught that evil city empires are out to destroy Mother Earth, you quickly begin to realize your way of life is both grand and different, or you hate it, or you become very conflicted.  Call me The Conflicted One.
Despite my social conditioning, ugh…I hate to admit it…."Hi, I'm Urban Gypsy and I….well…I love the city."  I love the people and the energy.  I love a unique mix of culture and race, poor, middle class, and rich rubbing elbows.  I love small shops tucked in unexpected little corners.  I love people trying to make it, just like me.  I love the availability of groups that focus on everything from art, to history, to writing, to sex.  I love galleries and museums.  I love how children acclimate to their environment and learn to ride the subway instead of drive a car.  If the country is woodwind, the city is brass.  I love brass.  If the country is folk, the city is rock and roll.  I love rock and roll.  Actually, I love them both.  I love the melding.  So I've spent a lot of time with my good friend guilt.  Believing in better environment and taking care of our planet, loving the country and the smell of just-tilled pasture, the silence at night with so many stars that you can't count them all, floating down rivers in tubes, and watching the birth of new lambs in the spring, while harboring this secret love of hard steel, concrete, rushing trains, and the human variable.
It's time for the sanctimonious attitudes of the off the grid bunch to embrace the city.  Let me count the ways.  First, let's talk about pollution.  Cities are indeed polluted and on a global scale appear more dubious than their suburban rural counterparts.  However, cliche as it goes, looks are deceiving.  New York City has nearly 8.5 million residents with carbon dioxide emissions of 8.8 metric tons per capita.  In comparison, Springfield, Missouri only has a population of approximately 160,000 residents, but carbon dioxide emissions of 22.56 metric tons (if indicative of the state average).  It is precisely because cities are compact that they become environmentally friendly.  There is more public transportation and less auto emission.  Nearly 75% of the population of NYC does not own a car, compared to 90% of Americans who drive to work.  That's right, your thirty minute trip to work every day is feeding a global catastrophe much more than Johnny Urban who lives above that little sandwich shop in the East Village.  Add more to that if you live off the grid and burn your trash or burn off your brush, even a little bit.
The very idea of sustainability hinges upon communal living.  Additionally, cities are much more self-aware when it comes to pollution.  They are constantly held up by their tail and dangled for others to see their polluted underbellies, and thus continually work to improve their numbers and reduce their environmental impact.  The nation's best recycling programs are located in San Francisco and New York City and there is constantly talk of infrastructure modifications to make more sustainable communities.  In fact, New York has developed the One NYC plan with the goal of sending zero waste to landfills by the year 2030. You can read about it in the article "Is It Possible for New Yorkers to Have Zero Waste?" by Mary Beth Griggs, on the Popular Science website.
Of course, sustainability isn't just about travel and waste, it's about living…really living.  The food I ate growing up was organic, long before it was posh to be organic.  I think the only things we didn't produce were mushrooms, rice and dairy, but those came from the health food store, a little closet-sized building that smiled like herbs, and olive oil.  Man are those good memories.  Our food was truly delicious.  How do you have that in a city of 8.5 million people?  Isn't it more sustainable to produce for yourself?  Isn't it healthier to eat stuff grown right under your nose?  Doesn't it make more sense to barter with your neighbor than fight corporate farmers?  This is, I believe, the greatest myth of urban living.  The new urbanite is concerned for his or her world and is working towards smaller impact bigger yield.  It is not unusual in many cities to find urban gardens filled with vegetables, herbs, flowers and even small livestock.  Cities such as Austin, Seattle, Chicago and Boston top the list in areas to raise urban livestock, while others such as Detroit might throw you in jail along with the goat you rode in on.
Yet other cities have organizations working toward building a culture of urban sustainability, such as Denver Urban Homesteading.  Arguably, these small operations and home farms, while serving individual needs, would work even better as a communal approach toward living if they fought for specialized organic rural farms focused on providing for the greater good.  Specialization begets expertise, begets better profits, begets healthier consumption, begets a better environmental impact, begets a happy planet.
Don't get me wrong, I'm not begruding people who desire to be off the grid because they're private, don't like people, prefer silence and stars, but don't blame our planet's ills on the city dwellers.  Urban sprawl is doing damage.  Our national landscape should be shedding it's road rashes and spreading it's natural flora and fauna.   The distinctly American ideology of wanting bigger houses, bigger cars, bigger highways, immediate gratification, and their own plot of land just to plop down on and watch the tube, while valuable national resources are wasted is our failure.  Large corporate money-farms that produce GMOs to make a bigger profit are our failure.  Inability to respect and embrace innovation, even when it's scary, is our failure.  Seeing ourselves as individual travelers instead of spokes on the wheel is our failure.  Our communities should be magnetizing, pulling tighter together, building up instead of out, sharing food and art and ideas.   Seeing ourselves as separate woodwind, or brass, folk, or rock causes us to miss the music.
I say it again.  I love the city.  I also love the country and I want it to remain serene, and austere.  All you nouveau hippies, urban transveganites (you know you moved from the city to be a vegan artist homesteader), upwardly-mobile-downwardly-facing-doggers, embrace your urban sisters and brothers.  Ultimately, we all want the same thing.  Less, but more.