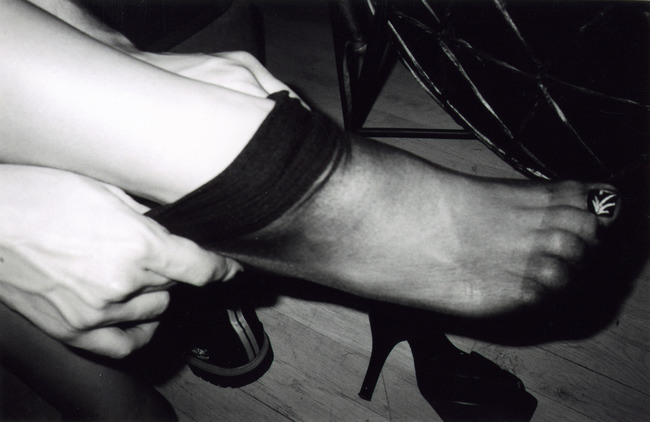 She slides the stocking past her toes, slim ankles, bruised and scraped cyclists calves;
fell off the edge, not so graceful landing and not a tear, a wreck she hides
with soft steel.  Up over muscled thighs empowered deliciously for dancing in her
kitchen to unconscientious corporate pop, and surrounding her ass and worshipped femininity deflowered…and yet always waiting to bloom.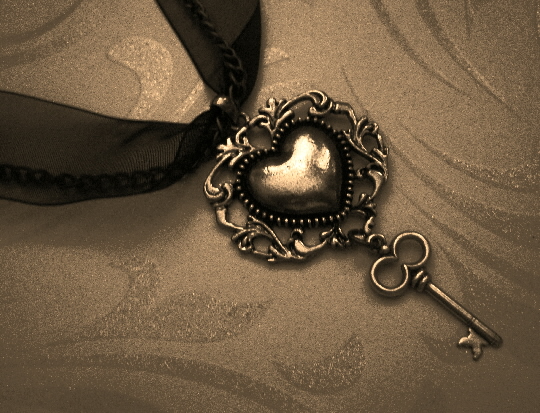 Over the stocking is the hide of a grand and gentle beast.  Black and buffed to gleam like a sharp knife flicking at the throat of savage desire.  Let not the intimate nature of the package belie the strength.  Supple and tough.  An extra layer of protection around that which is hers to give but for none to take without an invitation.  Twisting around and around the chain until the the pieces meet to be fitted in the silver lock.  Key tied on a tiny ribbon which once held aging curls unleashed by her lover.  The one who got away.  That ribbon with the key, on her knees she sits, as it rubs invisible scars against her heart where it lies.
And finally, her breath leaves her, as it has before.  She holds her arm beneath her breasts for proper lift and corset fit.  The ribbing tightly contradicts her ribs, leaving small axis marked into her flesh and harder yet she cinches.   The pain is fleeting night-after-night.  How does that saying go?  Better the devil you know than…the love you don't? Inch by inch the laces shrink into the satin armor.  Perhaps a mask tonight so so she can't see his face.  Many seek her service.  Lives colored in boredom and drudgery.  Escape from their owning by being owned.  Contradiction walks with a whip and a curse.  Protects her freedom with garments and a guarded soul.